As a runner, you hear all kinds of fun things about taper madness. The folks at Runners World call it the taper tantrum. I kind of like that. According to them, the tantrum includes phantom pains and panic attacks.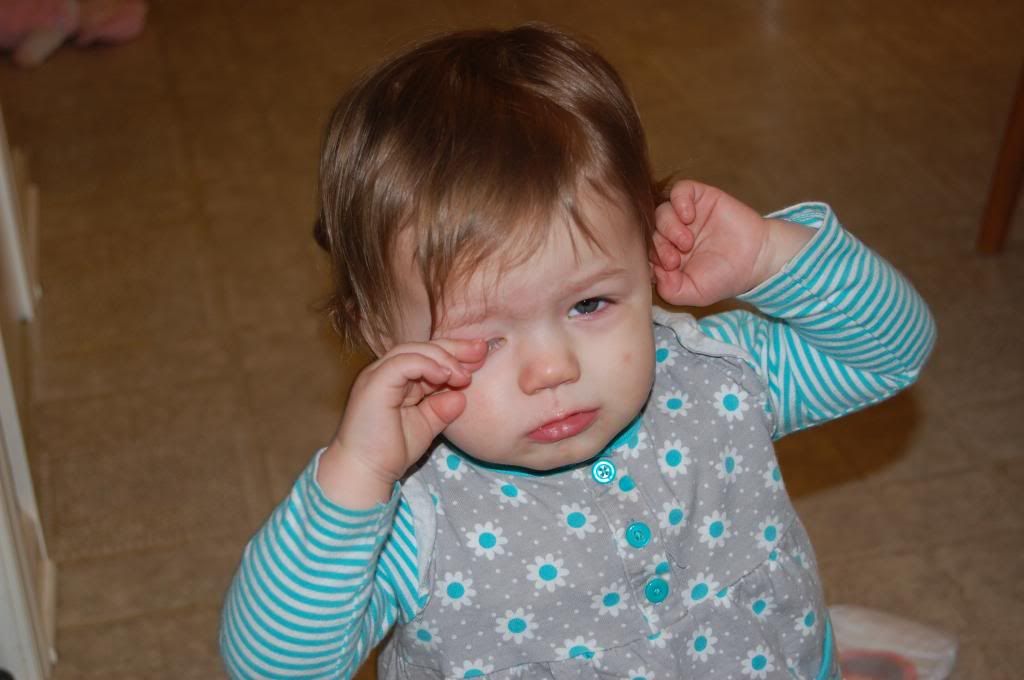 Uh oh. Mommy's tapering again.
Prior to running a marathon, I always thought taper madness was a myth. It just sounded like something all the cools kids said because they were training for a marathon. Last October, for my first marathon, I experienced it for the first time. For me, taper madness equated to the feeling that anything anyone did was extremely annoying. In addition, sugar in the form of candy and sweets was the only food group that counted for anything.
As Goofy got closer, I told friends that I dreaded how bad I would be for this taper, being that it was more miles. Until today, I actually thought I was doing pretty well. I mean, my child spent several hours in the middle of the night puking Saturday night, and I actually canceled my Sunday run rather than freak out and assume the world was out to get me and ruin my race(s).
I have noticed, though, that I am rather PMSy lately. My husband bears the worst of it. He might say something just wrong and I snap a bit in reply. Many things that normally wouldn't phase me are really rather irritating.
The big thing I have definitely experienced is LOTS of phantom aches and pains. It actually was freaking me out. I have told several people that "my feet and legs hurt so much more after two days rest than they did during my 48 mile week! Should I call the doctor?" After reading a few blogs and articles mentioning the phantom ache thing though, I feel better. Apparently it's normal and a sign of your body healing from training stresses or something. Who knew?
But, today. Today takes the cake. Apparently, my taper madness comes with memory loss or something. At least, that's the story. I put the dog out to go potty before leaving for my moms group with my kiddo. When I got home from moms group 3 hours later, I didn't even notice that my kiddo and I weren't experiencing the happy dog greetings when we first got home. I started making the kiddo her lunch. As I was putting her plate on the high chair, I noticed the dog standing outside on the back patio by the door. I may have swore a bit in my head as I realized I had not put her out since coming home. To top it off? My back door was left unlocked too. Luckily, I have a lab that can tolerate cold, and today was a much warmer and sunnier day then it's been in a week. Her coat was slightly cool, but she was completely fine and happy to see me. It's possible I bribed her with a bone to forget the entire incident.
I knew she had a bone hidden somewhere!
The funnier part? I'm not excited or nervous yet, and most everyone else I know that is going is. I think I'm broken. Or in denial. Or both. LOL. The good sign is that when I talk about it, I do start to get a little flutter of excitement deep in my tummy, you know the one I'm talking about. The one that says "Let's DO this."
I leave for Florida in 2.5 days. Let's hope my family survives that long! LOL!
Have you experienced taper madness? What types of things did you experience?
Please tell me that I am not alone!