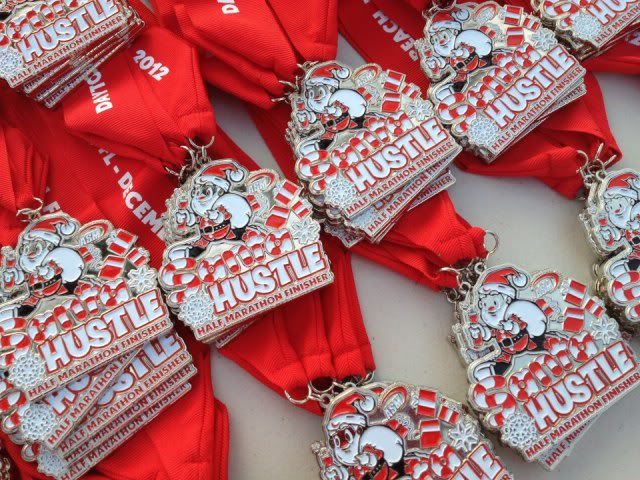 Race:
Santa Hustle Half Marathon Cedar Pointe
Distance: 13.1 Miles


Date:

December 16, 2012, 9 am start


Finish time:

2:03:10, 9:26 min/mile*
What sets this race apart: All the Santas, cookie stations
*Official Stats.
**Garmin distance and time: 12.88 miles, 2:03:11, 9:34 min/mile avg.
What a fun race and travel experience! Drove up with Lynne, Laurie, and Leah on Saturday to make it in time for packet pick-up. No picture of the goody bag because it would basically be a picture of an empty bag. We got the shirts, but they were out of Santa hats and beards. We did wind up scoring hats a bit later.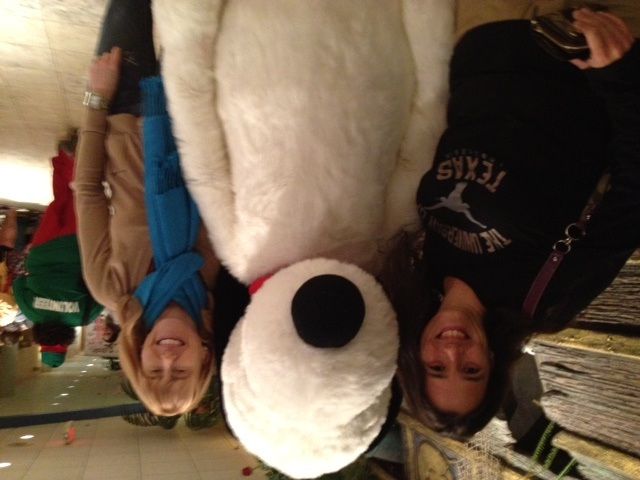 Lynne and I shmoozed with Snoopy during room check-in.
Then we met Melissa and Lynde at Olive Garden for a fun group pre-race meal. We stopped at Meijer on the way back to the hotel for some pre-race essentials....Reese's Peanut Butter Trees, Brach's jelly bells and some milk for my granola cereal.
We chatted for a bit before bed. The race started at the doorstep of our hotel, so there was no need to wake up extra early. It was super nice. We leisurely ate our pre-packed breakfasts, to which I added a Reese's Tree. Best. Decision. Ever! We got to do all our pre-race peeing in our hotel rooms with flush toilets and left our hotel room 15 minutes before the race start. Awesome!
We still had time to pose for pictures with the Reindeer and with the rest of the gang before the start.
Leah, Laurie, Me and Lynne with the giant inflatable Reindeer.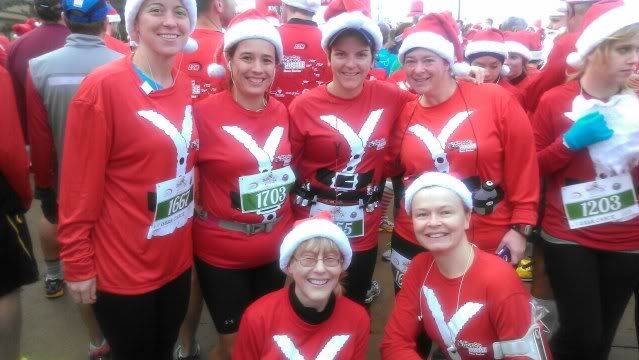 Leah, Me, Laurie, Lynde, Lynne and Melissa in the starting corral
Lynne and I had decided pre-race to stay together for the first mile or so. At the start we got caught up in the crowd and varied between 9:30 and 9:45 pace for the first mile, which was about a minute faster than we'd intended. We both stripped and threw our Santa hats within the first half mile. We both stripped off the Santa shirt within the first couple miles. I wound up running this race in compression shorts and a short sleeve shirt. In mid December. In Ohio. On Lake Erie. Craziness!
Lynne and I stayed together for the first 6 miles. We stayed round a 9:50 min/mile avg, and that was with me constantly trying to slow us down to match the original plan. At the mile 6 aide station, Lynne said she needed to stop to switch shirts (she was wearing a turtleneck) and told me to keep going. I intended to stay slower so that Lynne could catch up after stripping, but this is where I clocked my first 9:09 min/mile. From there I tried to continue to hold back a bit, but still began stretching my legs a bit more. I had to slow down because of course conditions a couple of times. The first time was in a section of sand-covered path and a dirt road. The second time was when I hit the 17mph headwinds about 4 miles from the end.
Regardless, splits were awesome. For the first time EVER in a half marathon, I ran the second half of the race faster than the first half. It only took me 6 half marathons to get that right! HA!
Splits:
Mile 1: 9:43
Mile 2: 9:48
Mile 3: 9:49
Mile 4: 9:51
Mile 5: 10:08
Mile 6: 9:46
Mile 7: 9:09
Mile 8: 9:23
Mile 9: 9:35
Mile 10: 9:09
Mile 11: 9:15
Mile 12: 9:33
Mile 13: 9:05
Of course, we had to pose with Santa post-race!
Best comment during the race - in the 10th mile, a couple of guys just in front of me accused me of drafting on them from the crazy headwinds. HA! So, naturally, after laughing, I told them I'd take the lead spot for a bit, and left them in my dust. :D
My A goal for this race in the middle of Goofy training was to finish under 2:15. I smashed it!!! Not only that, but I still felt great afterwards. I have all kinds of new goals for Spring races now. LOL! To top it off, my husband's PR is 2:09. Not that we are competitive or anything. Muwahaha.
Weather was fantastic. Running without crowds or signs actually wasn't a big deal. Running through the amusement park with all the twists and turns actually kept things interesting.
We also had to pose with Snoopy post-race.
This was a Half Marathon PR by 23 minutes and 38 seconds. Even with the 0.2 miles the course was arguably short, this would still have been a massive PR. I'm still a bit giddy about it actually.
More fun stats: 324th out of 1069 overall, 19th out 62 in my age group! Best ever in a half marathon effort!
I'm also ready to put a sub-2 hour half marathon on my goal list for 2013. Is that completely insane?
Anyone else race this past weekend?
Have you ever run a holiday gimmick race that you're SUPPOSED to wear the race shirt for the race?
Would you have kept the Santa hat on?