Hopefully, this will be my last post dedicated to Goofy, as I'm sure you're all tired of reading about it. To see the recaps go here:
Gone Goofy: The Mickey
Gone Goofy: The Donald
While reading a few other blogs recapping the Disney Marathon, I realized a something I left out. And since, I actually thought about mentioning it in my blog while running, it must be said. It's in the rules, I checked. At one point on the ESPN Complex, the course went around a track. A bunch of track athletes were running sprints. This was around mile 18-19 or so. At the time, I remembering thinking, that's just mean. Albeit, while laughing at the thought.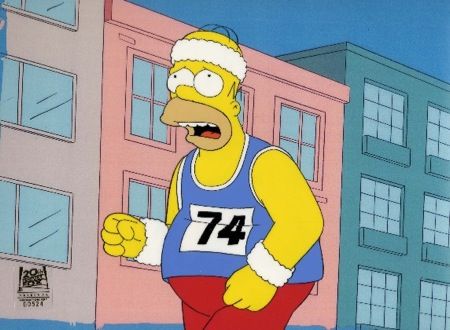 This is probably how I looked in comparison...
Originally, we'd talked about going to one of the parks after the marathon, but after all that running, none of us wanted to (Although, we did go to Downtown Disney for dinner). As a result, I had an extra $100 worth of Disney Gift cards to spend. Naturally, I spent it on Avery. Here is her haul:
She may or may not be spoiled.
Surprisingly, her favorite is the Monsters, Inc. doll. I actually bought that in the second store, and almost didn't get it at all since she has only recently started showing an interest in dolls. Shows what I know!
If you hold my hand, the giant teddy bear won't eat you.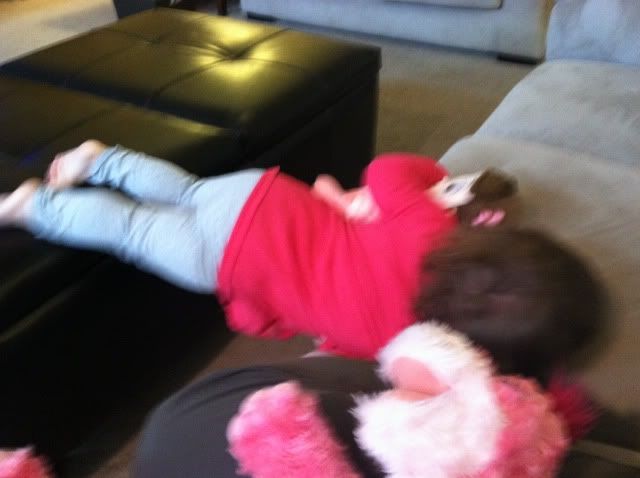 This is how the cool people get onto the couch
We went to dinner at the T-Rex cafe. I had to text a bunch of pictures to Sarah for her husband. I even videoed the "meteor" shower too....such as it was...
I may have issues. I was pleasantly surprised by how tasty the food was. I'm not used to tasty theme restaurant food. This is also where I built Avery a dinosaur in the build-a-dinosaur section. I may or may not want to keep the dino for myself. The dinner may have been one of my favorite parts of the weekend!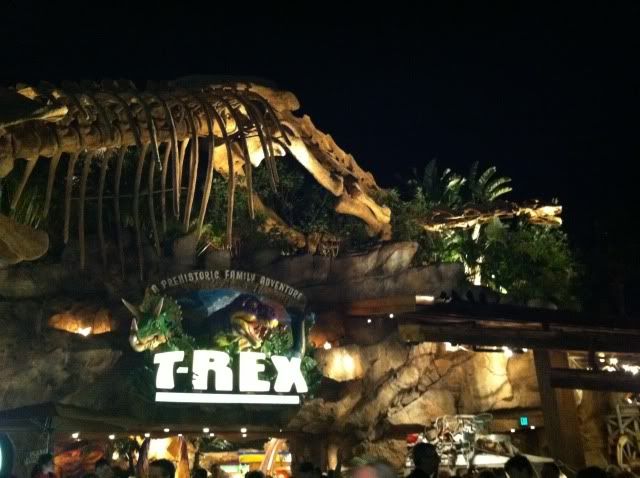 I mean - who wouldn't want to go in here?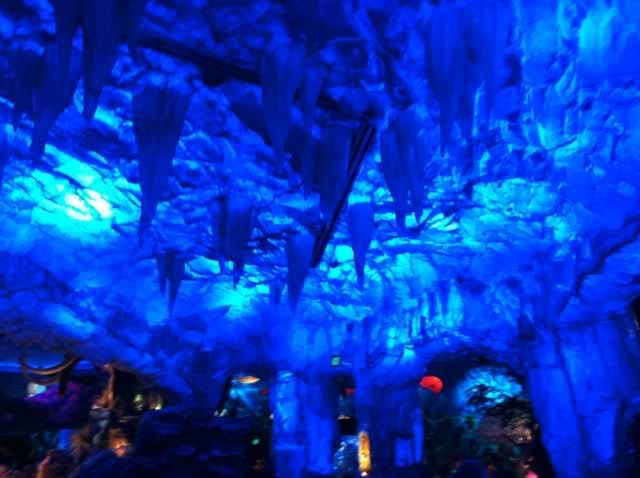 Plus, the directions to the bathroom were as follows:
Walk to the big fire, turn and proceed to the ice cave. The bathrooms are in the ice cave.
My original post-Goofy plan allowed me to take the entire week post-Goofy as a rest week. On Monday, I actually felt back to normal, which surprised me, but was nice with the flight home and all. By Wednesday, I texted my best friend to tell her "If I run today, I owe you $50." as a means of keeping myself on a running rest day for at least one more day. Thursday, I fell off the wagon. Considering I've felt fine, and took three complete rest days, I'm okay with that. I ran a mile before my light strength training session and got the okay from my trainer before running another two miles after the session. It was GLORIOUS. It was also on a treadmill, and I hate treadmills.
I think I am officially addicted to running. Three days off was enough to make me giddy when I ran a mile on the treadmill. I actually texted my husband to tell him how glorious that first mile was. (and yes, his response was "Hello my name is Mandy, and I'm an addict."
To be fair to myself, if I felt anything less than 100%, I would have taken another day off. What was so challenging about the extra rest days was that I didn't feel sore or bad at all. Nonetheless, I am taking today as a rest day per usual Friday=rest day. I'll return to normal next week since it's a fallback week for Pig training anyway.
This whole thing is funny to me though, because when I trained for my first half marathon, I often skipped runs because "I just didn't want to." And, now, I'm addicted. What a difference a few years makes!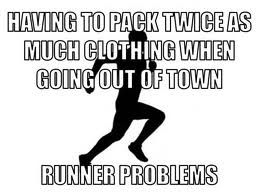 Anyone else have trouble taking a rest day when your body is telling you that it doesn't need it?
Anyone else enjoy dinosaur-themed restaurants?