Okay, Recap time. I am not even going to try to recap 39.3 miles in two days in one post. I am going to break it down by race, because that makes sense. I'll also sum up the expo, etc, in this post where I cover the half marathon.
Race:
Disney Half Marathon
Distance: 13.1 Miles


Date:

January 12, 2013, 5:30 am start time


Finish time:

2:19:57, 10:40 min/mile
What sets this race apart: Running through the Disney parks, character pictures, crowds.
Crowded doesn't really cover it.
Disney Marathon weekend is INSANE. 67,000 runners in three races. Crowded doesn't begin to cover it. The expo could have been awesome, but the first day we went, it was just too crowded to do anything other than walk through and look. Although, I did manage to buy a 39.3 magnet for my car on the chance that I finished it all! Almost all the Goofy merchandise was already sold out. I did buy a long-sleeve cotton finisher shirt.
We picked up our packets, all the girls realized our shirts were too big and made plans to stop by on Saturday afternoon when the released the Goofy shirts that hadn't been picked up. I was doing the Goofy Challenge, so I got three shirts in my packet, one for the half marathon, one for the full marathon and one for doing both. Here they are with some extra stuff...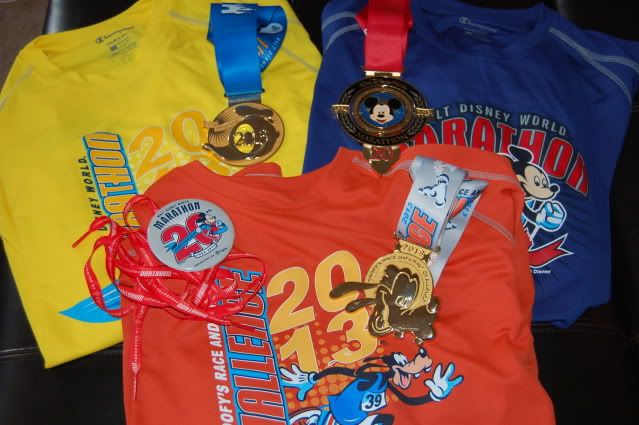 Three shirts, a button and shoelaces in the packet. Plus, an early preview of all three medals.
I'd rented a house with some other people from my running group.
Posing sexy at the Expo entrance!
I cooked spaghetti for all of us the first night. It was delicious! Unfortunately the beds in most of the rooms were rather uncomfortable. This made getting up at 2 am the first morning rather easy. LOL. I ate my normal pre-run cereal and packed up my fuel belt and second breakfast. I put Lemon-Lime Gatorade in one bottle and water in the other. I packed 3 GUs for on the course, a peanut butter and jelly sandwich and orange slices for second breakfast. We were out the door and on the road by 3 am. Once we'd parked, we hung out in the Galloway tent pre-race before heading to the corrals. We were able to use the port-a-potty a couple of times, drink water that was provided and eat our packed second breakfasts.
Oh, and we posed with Jeff Galloway
Then came the madhouse of getting to the corrals. It was like a massive herd of cattle trying to squeeze it's way through a pin head. Somehow, I ran into felllow blogger
Leana
in the mass of humanity and discovered that we were in the same corral, which was great because I was in a different corral than all of my housemates. We hung out in the corral until race start. I don't have a copy of the picture we took together yet, but I do have one for my Marathon recap post, promise!
If you are not an elite and in the first corral, plan to go VERY slow for the first two miles in a Disney race. It was wall-to-wall people. I'd intended to start slowish at an 11 min/mile pace, but it was impossible to even get to that pace, despite being in the corral assigned for those planning a sub2:30 half. It was actually slow enough that my ankle started to hurt from the clipped strides. I watched one runner yell at someone else that complained about the pace saying that "some people are here to have fun." I actually couldn't resist saying to the yellee, "maybe we just have different definitions of fun."
The downside of the slower start? Once I saw an opening after mile 2, I took it and tried to race ahead of the crowds. I had my watch displaying average pace and didn't realize until post race how fast I took miles 3 and 4. At which point, I got concerned that I sabotaged my marathon. Silly I know.
Mile 1-11:36
Mile 2-11:11
Mile 3-10:06
Mile 4-10:05
Then we came into the magic kingdom and the castle. It was still dark (my corral started at 5:56am), and the castle was all lit up. It was amazing. I had to pull over onto the sidewalk and have one of the volunteers take a picture of me in front of the castle.
And yes, did I forget to mention I dressed as Minnie?
The trumpeters were playing as we ran into the castle. Awesome.
And then the entire race course came to a complete halt. I mean. We stopped. Completely. There was a line for one of the pictures that was holding up the entire race. I finally pushed through on the side and got going. For the line, they were taking pictures of each runner running alone in front of the castle. Once I realized what the line was for, I kind of regretted not getting in the long line for a bit, but I was already past and kept going.
Mile 5 - 10:47
Mile 6 - 11:43
There were lines to take pictures with characters throughout the course, but most of the lines were long enough that I just didn't have the patience to wait. Even if it wasn't mid-race, I am not a fan of lines. I did manage to wait until the last mile to really just run without consciously holding back though! (I had to save something for Marathon day!)
Mile 7 - 10:44
Mile 8 -10:38
Mile 9 - 10:22
Mile 10 - 10:18
Mile 11 - 10:14
Mile 12 - 10:18
Mile 13 -9:36
Last 0.28 -8:15
1 race down!
It was above average temperatures for Florida and fairly hot, but I finished the half early enough that I didn't really feel the effect of the heat until I was finished and waiting for the rest of my friends to finish.
In fact, this lovely sign was EVERYWHERE.
I did make sure to walk through each and every water/Powerade station though and took my GUs and hydration on a regular schedule. I drank the entire bottle of water given to me at the end of the race before doing anything else. All smart things. Of course, then I called my husband at work (He doesn't work on Saturday) and left a message on his work phone that I was done. Not so smart. LOL.
I called my Dad and Stepmom while waiting for friends, and got lots of words of encouragement from them. I'd had all my split times post to Facebook, they'd followed my progress that way, and were very proud. That was a great moment for the day.
After the race, my housemates and I went out for burgers (perfect recovery food), then hung out by the house pool until we needed to go back to the expo. Around 3:30pm, we went back to the expo to exchange our shirts, and I bought a couple of cool things. A shirt made out of bamboo that is so stinking soft, I could wear it every single day (although that might get stinky), and a beautiful necklace. I've wanted a running necklace for a while, but it wasn't something I wanted to buy online. This one says "Run." and the little period is a tiny diamond. They also engraved 39.3 on the back of it for me. I love it. This picture shows those items plus the magnet I bought the day before. I got the cute sticker for free for wearing my One More Mile shirt when making a purchase at their booth (the magnet).
I know, the picture doesn't really show the necklace very well.
Once again we made Spaghetti for dinner and then had a surprise visit from a couple of running friends from home. They flew in to spectate at the marathon. So. Awesome. Then, we all went to bed semi-early to prepare for a second day of the 2 am wake-up call!
The first race of the Goofy Challenge was DONE! One medal earned, the Donald.
Me, Amanda and Laurie posing with our medals and our 20th Disney Marathon temporary tattoos.