Week of December 3-9, 2012
Monday: Rest Day
Tuesday: Ran 5 miles, 9:56 min/mile
Wednesday: Ran 8 miles, 10:45 min/mile
Thursday: Ran 4 miles, 10:36 min/mile; 30 min ST with Brandon
Friday: Rest Day
Saturday: Ran 10 miles, 11:00 min/mile
Sunday: Ran 20 miles, 11:20 min/mile
What a good training week, other than the whole sleep thing, but we'll get there. Started off with a rest day on Monday, which was kind of lazy since I was coming off of a fallback week, but whatever.
Tuesday, I had that annual doctor thingee. I didn't want to bring Avery, so I made reservations at the hourly daycare thing. My doctor likes to deliver all the babies that come to his office, so he often runs late. As a result, I made the reservation for 3.5 hours. My doctor's office is also, coincidentally, across the street from one of my favorite places to run, Sharon Woods Metro Park. So, yes, I went to the appointment in running clothes. The appointment was actually on time. Since, I pay for the full reservation whether or not I pick up the kiddo early, I simply HAD to go for a run at Sharon Woods before I picked her up. It. Was. Awesome. I wore short sleeves and ran in daylight. Win-win! No strength training that day because of the doctor's appointment timing though. I think I'll live.
Wednesday was a nice 8 mile adventure with my running wife Lynne. All the wooden bridges on the Orange Township trail had iced over and were extremely slick, so on the return of our out and back, we took a little detour to see if we could avoid them on the return. Luckily, I always carry a phone with a map on it when I run. So, we didn't get lost, but we also were unable to skip the bridges. We walked the bridges and still had an absolutely awesome run.
Thursday was another fun run with my running wife. I also had a mediocre strength training session. He really meant it when he said "we're starting slow to get you used to having strength training in your schedule again." Very wise, but I also felt like I didn't do much work as a result.
Friday was a fun rest day spent at CoSI with some of my favorite people.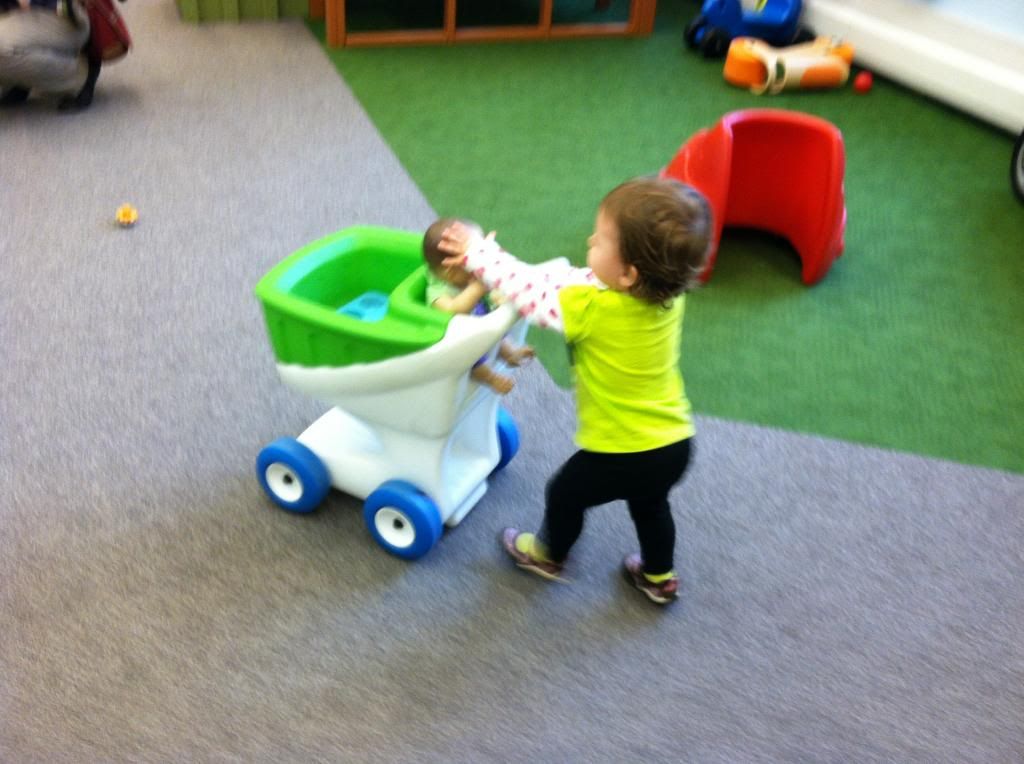 Going to CoSI with my friends and my kid basically means that I am in the same building as my friends while I get to chase THIS around.
Friday was also the first of two consecutive nights of obligatory hubby work parties.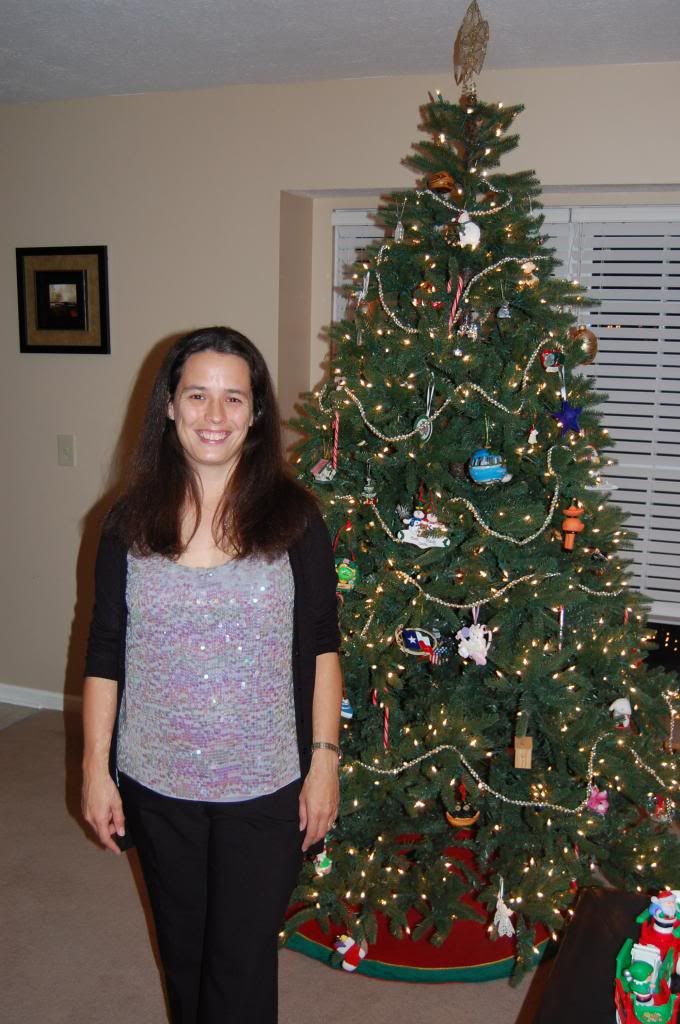 Look! I'm not in running clothes! Gasp!
Despite a post midnight bedtime, I still got up to meet the gang for 10 miles at 8am on Saturday.
Saturday night brought a second obligatory work party and more hours in heals than I've spent in a LONG time. On the way home, I informed my husband that he owed me for the work parties the same weekend as my 10-20 miler weekend. As a result, I wasn't going to feel guilty about being gone for my 20 mile run in the morning followed by being a lazy bum the rest of the afternoon. He's so lucky to have me in his life! HA.
Sunday I met the RUNDMC group at 8am.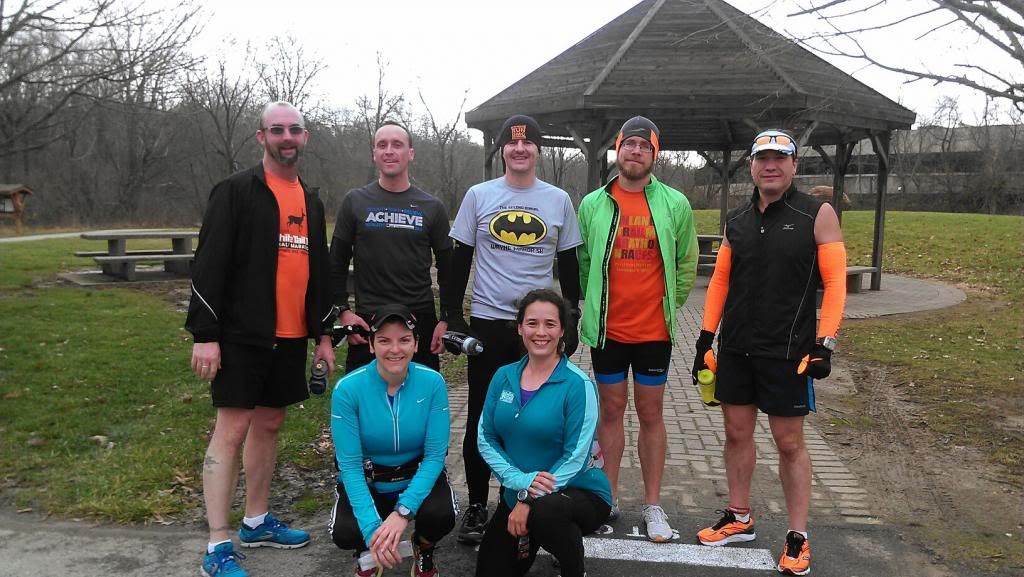 This was taken AFTER the first 10 miles.
All the guys ran 14 miles in the same time that Laurie and I did the first 10 miles. Laurie and I were doing 20 miles, but we did them in two 10 mile loops. Why? Because my crazy running wife decided to join us for the second 10. For the record, Lynne is not yet signed up for a Spring race, she's doing this for fun. Gotta love that kind of crazy!! (Lynne was our photographer, so she's not pictured).
One of the funnier trail stories we heard that morning was inspired by this sight as we ran by Thomas Worthington High School...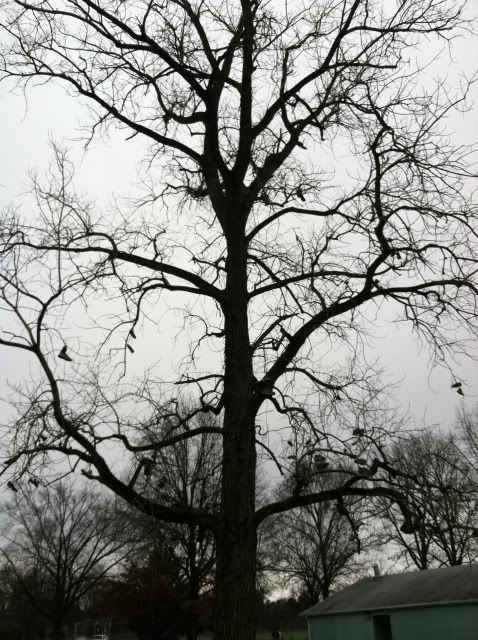 Shoe trees are the new Christmas trees.
This 20 mile run was tougher than the last 20 miler I did during Columbus training. (Yes, I know that I didn't run 10 miles the day before during Columbus training.) It was also tougher than the 18 miler on the 10-18 weekend. Why? Mostly, because I was tired. I hadn't slept well in 5 days by that point, and it showed. Nonetheless, I did it. No post-run ice bath and no post-run ibuprofen either. I'm badass like that. Or something.
For the first time, I had a rubbing injury on my toe, just below the big toenail. Never had that before, not even during the marathon in October. (Same shoes even!). It was less than pleasant in the shower, just saying. It looks ever more picture worthy today than it did at the time.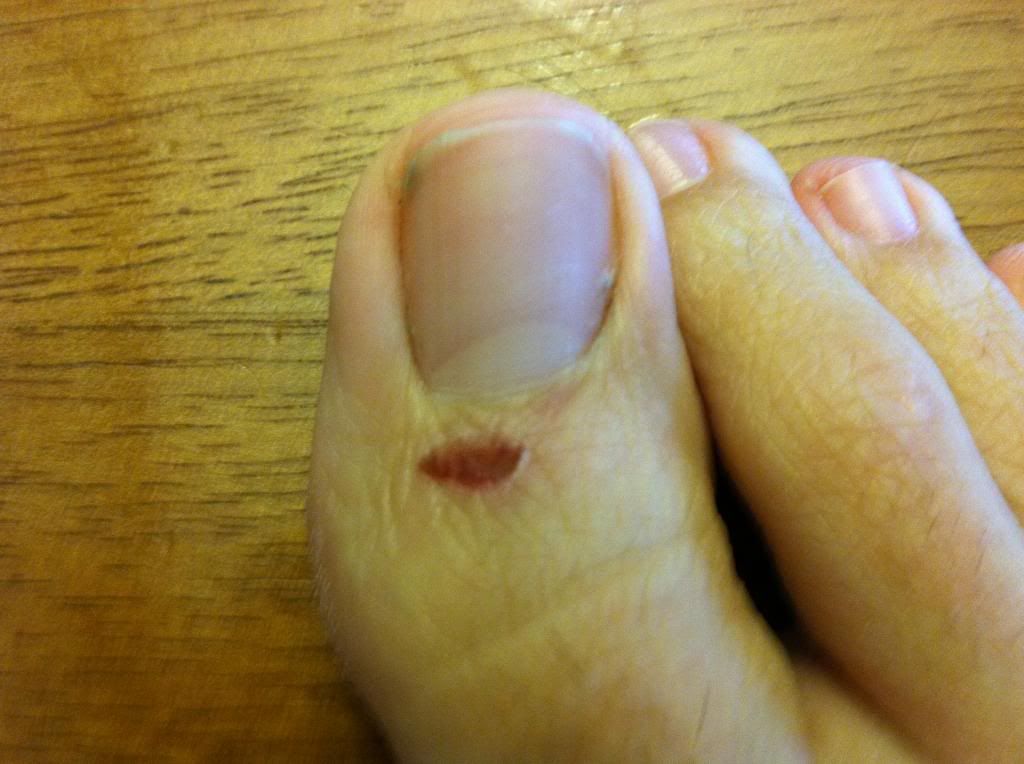 This is for my friends who just LOVE injury photos.
Taken this morning.
I had a few other things to talk about that are totally fantastic, but I'm saving them for the next post as this is already really long...and besides, who can top a shoe tree and a toe blister?
How was your training this past week??
Do you get blisters on your feet?
Have you ever contributed to a shoe tree? Would you?